With all the recent critical attention to Apple's manufacturing policies, it was perhaps only a matter of time before the company decided to push back.One way Apple might do this is by granting an "exclusive" to a media outlet that might put out a different kind of story than the one that people have encountered via the New York Times (1/25/12) or This American Life (1/6/12).
So here we have the news that ABC has been granted "exclusive" access to the massive Foxconn facility that has been at epicenter of the controversy over Apple's labor practices.
Why ABC? Forbes contributor E.D. Kain sees a conflict of interest (2/19/12):
ABC's parent company is Disney Corporation. The top dog at Disney, CEO Bob Iger, sits on Apple's Board.

Meanwhile, the late Steve Jobs (and now his family) are the biggest individual shareholders of Disney.
Well, don't tell that to ABC reporter Bill Weir, who offers this classic defense on the ABC website. In the midst of the current scandal, the company reached out to him: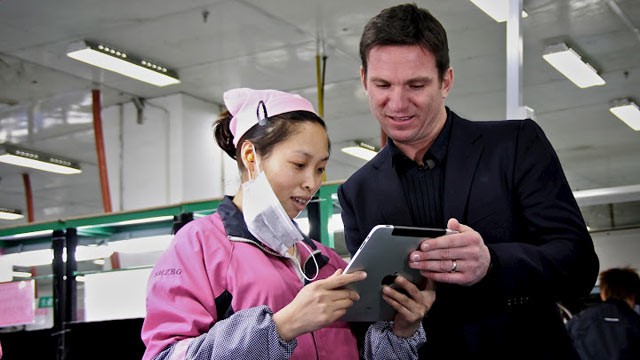 It was around this time when Apple called me. They wondered if Nightline was interested in seeing their iPhone, iPad and MacBook final assembly lines at Foxconn during a first-ever audit by the Fair Labor Association. I said yes, very much, and immediately started imaging the reasons why they were offering such a scoop to me, of all people. Among the possibilities:

-I've said nice things about their products on the air.

–ABC News is owned by the Disney Corporation and Disney CEO Bob Iger serves on the Apple Board of Directors

-The Steve Jobs Trust is Disney's largest shareholder.

-They enjoy "Nightline."

It must be the last one, because the first three would have no bearing on my reporting and I'm pretty sure Apple knows it.
Yeah, that must be it.
Apple has a reputation for being remarkably sensitive to critical reporting. It's highly unlikely that the company decided to grant an exclusive to a reporter they thought might do the kind of journalism they'd frown upon.
On the other hand, it's quite likely that they expected that Weir would give Apple the same kind of coverage he gave Wal-Mart, when he did a report for ABC World News (9/20/05; Extra!, 11-12/05) on "how Wal-Mart is changing the way the Chinese shop." Weir called attention to singing Wal-Mart workers and the "brightly-lit aisles" where "China's exploding middle class is discovering the novelty of free samples and a wide selection of everything." He also praised Wal-Mart's efficiency:
While Wal-Mart has changed the way people shop, they're also changing the way suppliers think. . . . Many manufacturers were shocked to learn that if they want their products on these shelves, it's not who you know, it's what you know about keeping costs down.
Apple was no doubt also pleased with Nightline's coverage (10/5/11; Extra!, 12/11) of Steve Job's death, when Weir said of the late CEO, "He was our Edison, our Disney, our Da Vinci," in a broadcast dedicated to "a visionary who changed the way we live, work and play, the man who gave us products we love and pointed the way to a future that he alone seemed able to see."
The ABC Nightline report is scheduled to air today, so we'll all be able to see if Bill Weir lived down to Apple's expectations.

Editor's Note: The This American Life episode cited above has been retracted, based on revelations (Marketplace, 3/16/12) that its main source, Mike Daisey, fabricated or conflated much of his account of his investigation into working conditions at Foxconn.